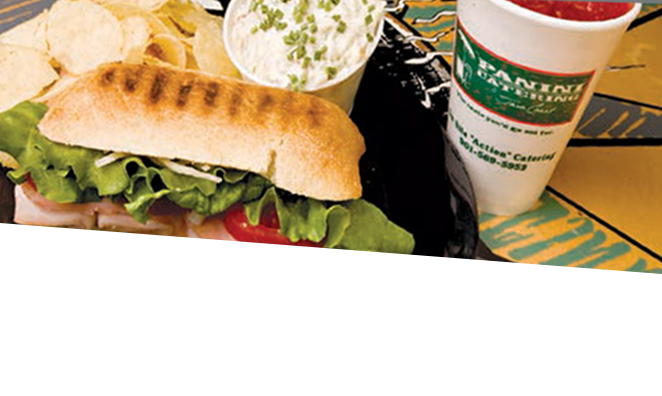 Panini Bar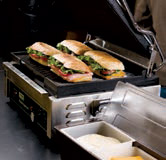 Panini means sandwich in Italian and has become a lunchtime favorite in cafés across America. Your guests can customize from the following menu all served on our tasty ciabatta bread.
Pick 3 sandwiches and the chef will come prepared to freshly grill on site.
AMERICANO
Turkey, Ham, Cheddar Cheese, Roma Tomato, Sweet Onion, Baby Spring Lettuce, Honey Mustard
CHICKEN FAJITA
Seasoned Grilled Chicken, Sautéed Peppers and Onions, Cheddar/Monterey Jack Cheese Blend and House Made Sriracha Sour Cream
ITALIANO
Ham, Hard Salami, Provolone Cheese, Roma Tomato, Sweet Onion, Baby Spring Lettuce, Creamy Pesto
ORIGINAL MUFFULETTA
Black Forest Ham, Salami, Mozzarella Cheese, Extra Virgin Olive Oil, House Made Olive Spread
THE THREE CHEESE DELIGHT
Cheddar Cheese, Provolone Cheese, Mozzarella Cheese, Roma Tomato, Honey Mustard
VEGGIE PANINI
is always available
The Breakfast Panini Bar
RAJUN CAJUN
Andouille Sausage, Eggs, Bell Peppers, Pepper Jack Cheese
FLATIRON STEAK
Flank Steak, Spinach, Sautéed Portabella Mushrooms with Balsamic Glaze
$9.25 per person ($2.00 additional charge for groups under 25 people)
Potato Salad—no charge with Panini Bar Choice of Hash Browns or Cheese Grits at no charge for Breakfast Panini Bar
Chef's fee—$100 + 18% Gratuity
Chef fees could be higher on weekends and evenings
Additional chefs available as needed.
THE CLASSIC SAUSAGE,
EGG AND CHEESE
THE CLASSIC BACON,
EGG AND CHEESE
No Group too Large
Ask about our Grilled Cheese Bar!
Contact Steve at 901-302-6439
info.paninicatering@gmail.com
Action Chef
On Site
Testimonials
First Rate
"They provided an attractive presentation and the grilled wraps were first rate"
- Leslie Rogers, Wilson Consulting
More Testimonials
Events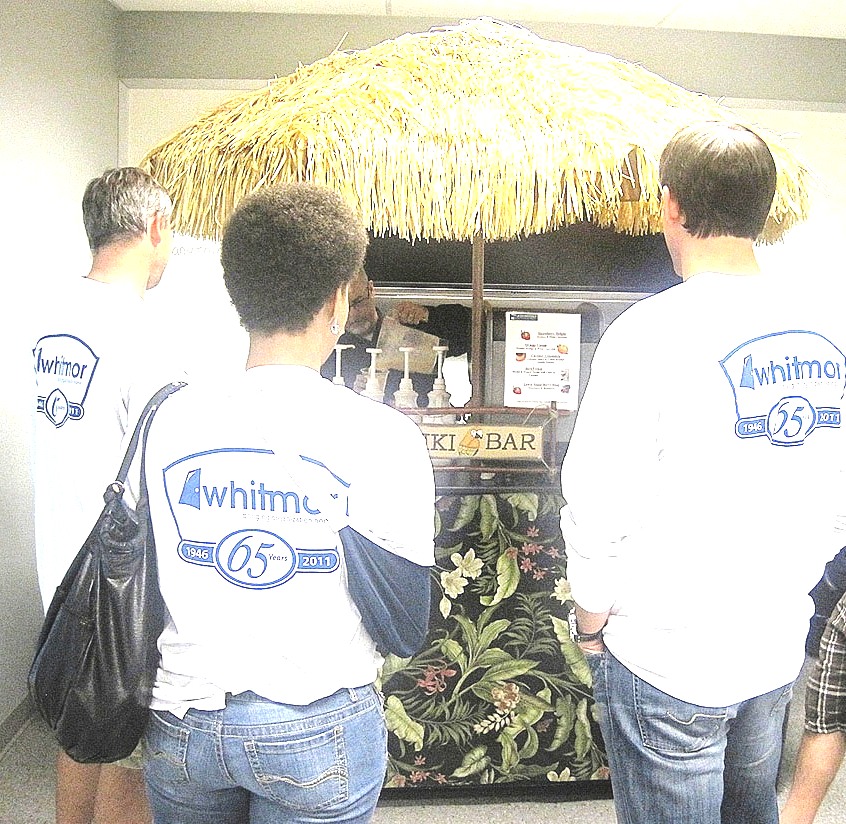 Gallery