Executive Lunch / Dinner Menu
Panini Catering is the leader in corporate catering in the Memphis area. If you want a break from the usually fast casual restaurant catering menu try our executive lunch options. Each menu is distinctive, creative and sure to please at your next meeting. We can offer these items in either a "Drop Off " or "Staffed" situation. We use a high quality disposable dinnerware or even china if you choose. See why we get so much repeat business from our corporate catering clients. There is a 36 hour notice required and a 25 person minimum. Our skilled team of chefs can also take custom orders. Please ask!
CHICKEN PICCATA WITH LEMON CAPER CREAM SAUCE
Rosemary roasted new potatoes. Salad of mixed greens with crumbled feta cheese, toasted sunflower seeds, Mandarin oranges, red onion tossed in a lemon vinaigrette and served with fresh rolls. $19.00 per person.
SAUSAGE AND APPLE STUFFED PORK LOIN WITH MANGO SALSA
Roasted summer vegetables, corn soufflé and fresh rolls. $19.00 per person.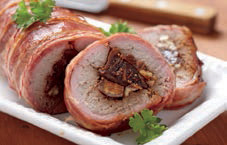 DILL AND BUTTER POACHED TILAPIA
Pesto rice, fresh green beans with roasted red peppers and fresh rolls. $16.00 per person.
MEDALLIONS OF BEEF TENDERLOIN WITH BRANDY PEPPERCORN CREAM SAUCE
Mini mashed potato bar with cheese, bacon, butter and green onions. Kicked up house salad with romaine, spinach, bell pepper, tomatoes, cucumbers, croutons and sunflower seeds. Served with fresh rolls. $22.95 per person.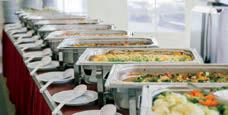 DESSERTS
Peach and Apple Cobbler
$3.00 per person
Strawberry Shortcake (Seasonal)
$3.50 per person (Min order 20)
Fruit Salad $3.50 per person
Cookies $1.60 each
Brownies $1.65 each
Death by Chocolate Cake $4.95 per slice
Italian Cream Cake $4.95 per slice
Orders must be in 15 person increments.
Min order of 14 people on cakes.
Contact Steve at 901-302-6439 info.paninicatering@gmail.com