Cappuccino Bar Catering at Campbell Clinic's employee appreciation event in Collierville
November 5, 2011 - 5:42 pm
Comments Off

on Cappuccino Bar Catering at Campbell Clinic's employee appreciation event in Collierville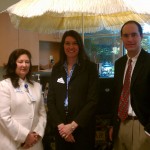 We served our Cappuccino Bar at Campbell Clinic's Collierville office.  We will be serving all their other offices in November.
We can provide Cappuccino Bar catering for any event in the Memphis area.  Call us today to find out more!
Cappuccino bar catering Memphis has always been a great way of meeting friends and family  over a great cup of coffee. Many a happy conversation has been held over such delicious cups of cappuccinos. Why not extend the same warmth in your corporate events and sales meets?
When you enlist our Memphis coffee catering services at your corporate events, your guests not only get a delicious cup of coffee( just the way he/she likes it), but also 'great atmosphere'. You can say that 'we help you create conversations' and  emulate feelings of warmth and friendship in all your business events. Additionally, we also incorporate the theme of your event and turn it into something that will remembered for a long time to come!
Coffee is the world's most popular drink-simple, elegant yet timeless. Our experienced and  knowledgeable  chefs and baristas serve this delicious beverage to your guests in a unique manner.Your guests get a 'fresh and gorumet coffee experience' that leaves them completely impressed. Apart from coffee, we also serve captivating and energizing teas, delicious hot chocolates, smoothies, juices, milkshakes and several other hot and cold beverages.
In fact, our  milkshake  and smoothie bar catering is very popular at youth events.  Typical examples include: poolside parties, picnics, sweet 16 celebrations and graduate parties etc. Thirst-quenching, invigorating and downright cool,  our luscious smoothies consisting of the freshest of ingredients are totally loved by the youngsters.
We also do the regular lunch, dinner items as well as dessert catering.  Our breaksfast menu has also received accolades especially due to  crispy waffles that are prepared fresh in the traditional way. Alternatively you can opt for delicious omelets etc.
The next time you want the best Cappuccino bar catering Memphis experience, think only of us!