Hor D'oeuvres and Appetizers
Panini Catering is Memphis' Premier Caterer. Whether you're having a Wedding Reception, Wedding Rehearsal or any other type social event, we can design a custom menu to make your event a tasty reality.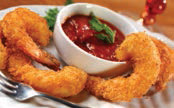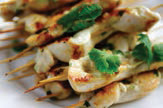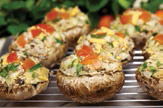 Hors D'oeuvres / Appetizers
Crudités (Veggie and Ranch Dip) $2.95pp
Prosciutto Wrapped Asparagus $3.75pp
The Best Deviled Eggs $1.50pp
Crabmeat Stuffed Mushroom Caps $2.75pp
Spinach Stuffed Mushroom Caps $2.50pp
Cheese Display $3.25pp
Hummus with Pita Chips $1.95pp
Fruit Display with Yogurt Dip $3.25pp
Shrimp Cocktail $3.95pp
Pork Kabobs $2.75pp
Roasted Potato Skins $2.95pp
Hand Crafted Sliders (Turkey/Cheese,
Chicken Salad, Pimento Cheese) $2.95pp
Onion Soufflé Dip with Scoops $2.75pp
Hawaiian Chicken Skewers $2.95pp
Spinach Artichoke Dip $3.25pp
Pasta/Potato Salad Cups $2.50pp
Sweet BBQ Meatballs $2.50pp
Sweet and Sour Meatballs $2.50pp
Beef Tenderloin Sliders with Horseradish Aïoli $3.95pp
Pork Tenderloin Slider with Spicy Mustard $2.50pp
Black Bean and Corn Salsa $2.00pp
Smoked Catfish Quesadilla $2.75pp
Bacon Wrapped Jalapeño Duck Poppers $4.00pp
Bacon Wrapped Fresh Green Bean Bundles $2.75pp
Lime and Coriander Shrimp with Citrus Aïoli $3.95pp
Caprese Skewers $2.75pp
Wheel of Brie en Croûte $3.95pp
Grilled Shrimp with BBQ Rémoulade $3.50pp
Panini Style Sausage and Cheese Display $3.75pp
Banana Pudding, Tiramisu and Chocolate Mousse $2.75pp
We can meet any request you may have.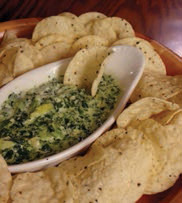 We can do Buffets, Carving Stations and Sit Down Dinners — please inquire about a menu suited for your event.
Contact Steve at 901-302-6439 [email protected]
Testimonials
Tough to Top
Guys, just wanted to let you know that I have had SO many good comments about (Thanksgiving) lunch today.  Thanks for the great service and delicious food….making it tough to top it at home next week!
-Gale Peden, Smith-Nephew Memphis
More Testimonials