Box Lunches
TRADITIONAL BOX LUNCH $7.50
Premium Ham or Turkey available on a variety of breads.
Comes with chips and a cookie.
Options: Roast Beef and Pimento Cheese
CHICKEN/TUNA SALAD BOX LUNCH $7.75
Our popular Chicken and Tuna Salad on a flaky croissant with lettuce and sliced tomatoes. Comes with chips and a cookie.
WRAP BOX LUNCH $7.75
Choice of Chicken Caesar or Turkey Club. Served with chips and a cookie
BOX LUNCH ADD-ONS
Pasta Salad $1.95 per person
Potato Salad $1.95 per person
Fresh Fruit $2.50 per person
TEA AND LEMONADE
$8 per gallon
(Choice of Sweet, Unsweet, Mango, Raspberry or Peach.)
CANNED SODAS AND BOTTLED WATER
$1.25 each
Contact Steve at 901-569-5952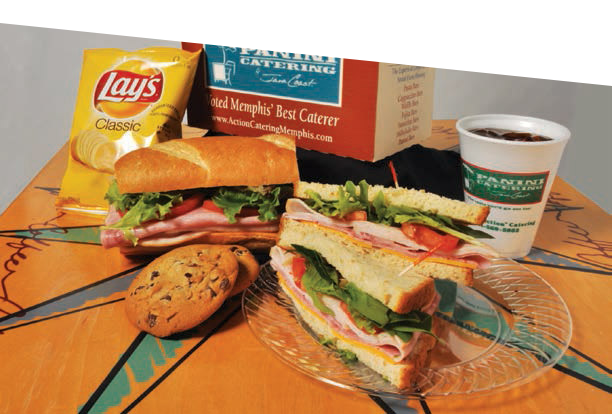 Testimonials
The Food was Excellent
"I just wanted to let you know the food today was excellent.  I have heard several comments today commenting on how nice and good the food was.   Also, we don't know how we are going to top this at our Thanksgiving family dinners.  One of our IT guys said he walked around comatose for a while because he enjoyed the food so much."
-Mary Lamey  Smith-Nephew Memphis.
More Testimonials