Pasta Bar
Our experienced chefs will custom make a culinary presentation.
Each dish is created in front of your guests and is sure to
deliver mouth-watering flavors.
CHICKEN AND SUN-DRIED TOMATO PASTA
Chicken and sun-dried tomatoes sautéed in a light olive sauce, complemented by capers, onions, garlic and black olives. Served over penne pasta.
CHICKEN ALFREDO
Chicken sautéed in olive oil with mushrooms and broccoli, combined with a creamy alfredo sauce. Served over penne pasta.
PASTA BOLOGNESE
House made hearty meat sauce served over spaghetti pasta.
Build your own, add any combination of the above ingredients to make your own creation.
$10.95 per person ($1.00 additional charge for groups under 25 people)
Garden Salad—$2.50 per person
Caesar Salad—$2.50 per person
Comes with Breadsticks and
Garlic Butter Spread–No Charge

Chef's fee—$90 + 18% Gratuity
Chef Fees may be higher on weekends and evenings
Additional chefs available as needed.

Big Group? No Problem

Action Chef
On Site
"We loved having the chef on-site and that
they were able to serve many people quickly."
– Bonnie Hickle, Smith & Nephew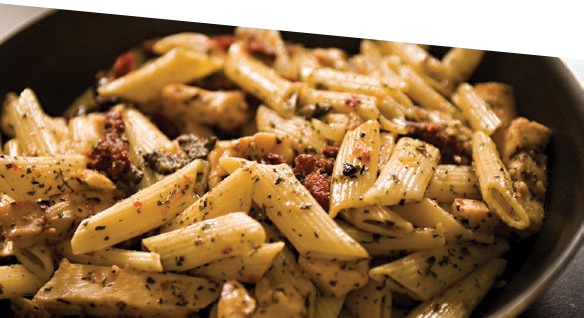 Testimonials
The Food was Excellent
"I just wanted to let you know the food today was excellent.  I have heard several comments today commenting on how nice and good the food was.   Also, we don't know how we are going to top this at our Thanksgiving family dinners.  One of our IT guys said he walked around comatose for a while because he enjoyed the food so much."
-Mary Lamey  Smith-Nephew Memphis.
More Testimonials